Our son was born with a rare form of dwarfism that was diagnosed at three months of age. At the time, it felt like nothing was ever going to be "average" for our son. The first year was extremely difficult, especially the newborn stage with feeding issues and lack of growth and muscle tone to help him meet his milestones. And that was the crux. What will be his normal? Will he crawl? Will he walk? How could I even think about those things when his 12 feedings a day took every ounce of energy I had! Luckily, I didn't have to understand or know those answers at that time. That was for my support workers to address…I didn't realize at the beginning that it is all so carefully measured and planned.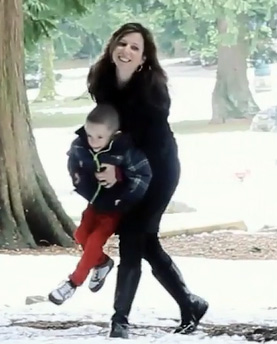 I still remember that first group meeting for the preemies that I was encouraged to attend by my IDP Consultant. That was the first time I met our son's future physiotherapist, Hannah. Who would have known she would be the one to orchestrate his first swimming lessons, first time at a gym to kick a ball, his first jump on the trampoline and first steps on the balance beam, or his first time pedaling a bike in the SHARE parking lot! SHARE also provided assessments and appointments for Speech Therapy and Occupational Therapy, to later help with preparation for Kindergarten. Yes, SHARE was there every step of the way for the first five years, and prepared us as a family for the future years. I know in my heart that he was able to overcome these issues with the therapies we participated in. The focus, the planned progress, the milestones…we met them together and I could not ever have known how to help my son in these areas without the Team at SHARE.
And then there was the Sibling Group! It came along at just the right time. I couldn't believe it. My daughter was so jealous of my son and the attention from doctors and therapists. People would notice my son was different…it was always about him, never her. The Sibling Group was just for her. She still talks about it today. It is hard for me to sometimes grasp what these individuals face every day while working with all the children in the community facing challenges to do what others don't have to think twice about. The Team at SHARE don't work in private practices…they choose to work in our communities to help stop our children from falling through the cracks. There are things we can do to help build our children up, inside and out. I hope parents get informed about what services are offered in their communities. Physiotherapy, Occupational Therapy, Speech Therapy, baby groups, sibling groups, Parent Groups, Parent with Twins….and more. They are all part of the support needed to raise a child with challenges and even if all it does is create a friendship, an opportunity to meet another parent going through the same things, it is all worth it! It makes a difference.