Celebrating 50 Years Serving our Community
A Special Message from SHARE's Board Chair and CEO:
In 2022, SHARE is celebrating its 50th anniversary serving the TriCities community! On behalf of SHARE's Board of Directors, and the entire SHARE team, we thank you for your ongoing support throughout SHARE's history. While the TriCities have changed greatly over the past 50 years, SHARE's mission to support people during times of vulnerability has remained steady.
Today, our community faces the devastating consequences of the COVID-19 pandemic, coupled with an ongoing affordable housing crisis, and tainted drug supply/opioid crisis. We see more seniors struggling for a safe and secure place to live, more families unable to put food on the table, and mental health concerns rising across all demographics of our community. The TriCities continues to be a place that welcomes newcomers and refugees, many of whom are fleeing unthinkable atrocities and trauma. Your help is needed now, more than ever.
SHARE has been there for our community the past 50 years, and with your support, we promise to be here for the next 50 years too. We welcome everyone to join the celebration of our 50th anniversary in one form or another, and thank you for your ongoing support of SHARE, and our community.
Marvin Shung
Chair – Board of Directors
Claire MacLean
Chief Executive Officer
Thank you to our community!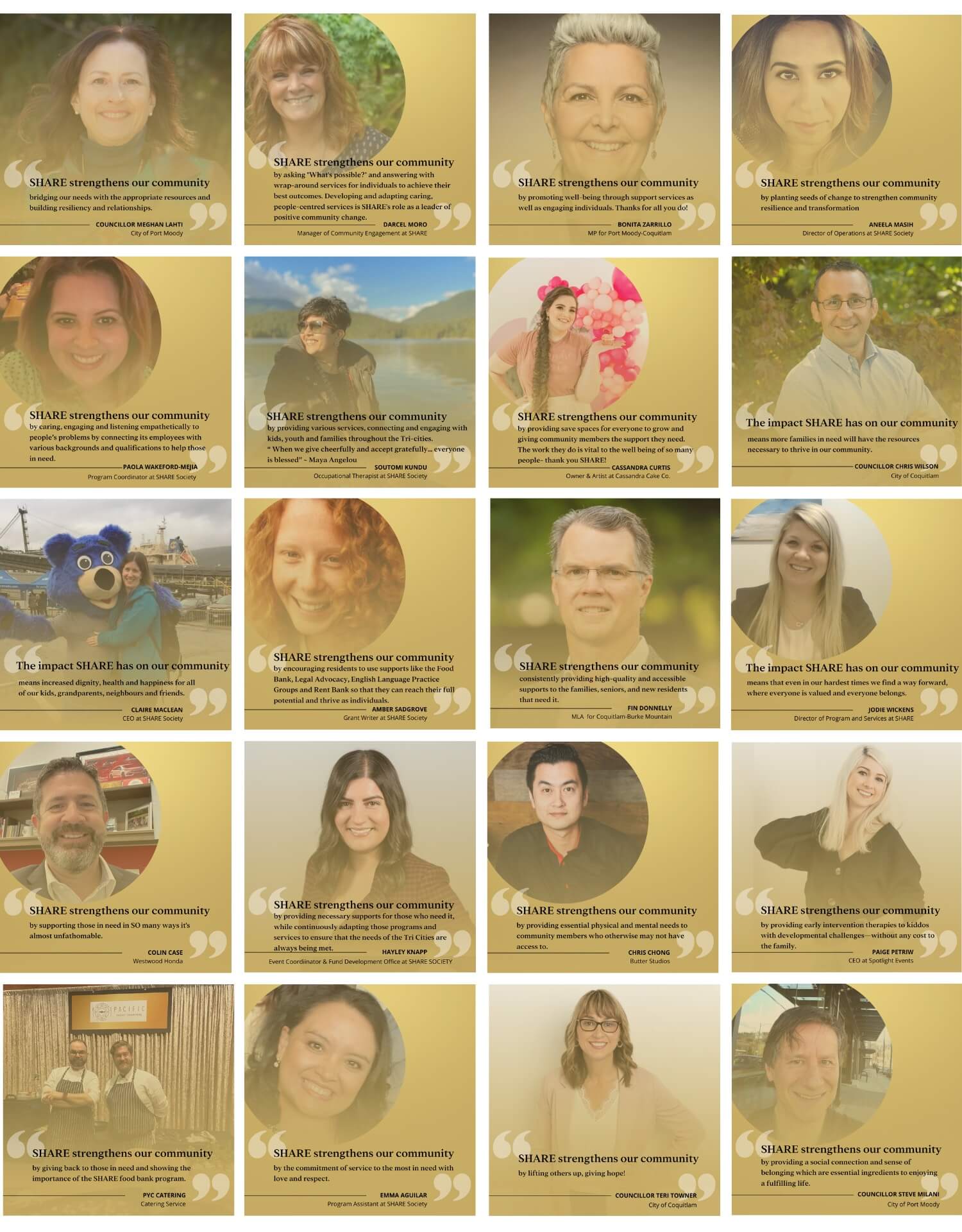 Get involved in the celebrations!
Join the community campaign for SHARE. Complete the form here to have your submission featured online and in print!
Complete Community Campaign Form
Sign up as a local business for a donation campaign. During the months of September to November, SHARE will be partnering with local businesses to raise awareness and funds for SHARE's programs and services, while shining a light on local businesses in our community and their amazing generosity!
Here's how you can join the fun:
Decide which type of giving campaign fits best for your business.

Here are a few ideas and examples:
For the month of September, we're donating $0.50 from every sale to SHARE.
For every $50 spent, we'll donate $5 to SHARE.
For every $5, we'll donate $0.50 to SHARE.
Special edition products – All proceeds from sales donated to SHARE.
Collect donations from customers during checkout (you could have them sign something to add to a display).
Your own idea!

Determine the dates for your campaign. It could be just for one week, a weekend, two weekends, the entire month of October, etc. It's totally up to you!
Provide us with the details of your campaign by filling out the form here. We will be highlighting all the participating businesses and their campaigns on our website, social media, and email newsletters. We will also send you some promotional graphics and assets for you to use to help spread the word.
Advertise your campaign, sell your products/services, and help raise money for SHARE!
Sign up now
Stay tuned for more celebrations happening all year long!